Confidentiality in a Relationship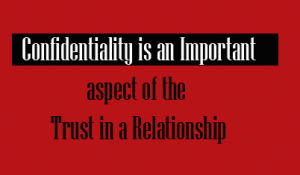 Confidentiality is an important aspect of the trust in a relationship.  Whether it be a family, friend or significant other, regardless of their levels of importance to you, your confidentiality is imperative. No healthy relationship can survive without it. However, I want to focus on the discretion of you and your partner. Nothing is more immature than being unable to contain yourself. Those who don't have discretion lack self-control. And without self-control, others will find it hard to trust you.
Without trust, there's no point in sharing deep genuineness to one another. So from the get go, if you see you can't trust your partner during the first months of dating, it's a red flag. Yes a big red one because how will you be able to confide in them with your private issues and intimate feelings?
Now when it comes to telling others about your relationship, how much do you share? Do you discuss every little detail? Is it only certain things you converse? Is a lot of sharing harmful? Unfortunately I faced this issue. I had a friend that was close to me and my boyfriend as well. For the amount of time that I knew her, I felt that I can confide in her.  I was an optimist and tried to see the good in everyone.
I never thought anyone would do anything negative as long as I didn't do it to them. When I approached her about a problem I was dealing with, I only was seeking her point of view and what she would do in the circumstances. I asked her not to discuss what we spoke of with anyone else. However, not everyone does what is asked of them. As a friend, I feel as I shouldn't even have to even ask that. Long story short, within minutes what we spoke of reached that one person who I really did not want to know. My boyfriend!
I was so hurt and he was too. I couldn't even address him on what I was feeling because he had to hear it from someone else. He was furious. Not too long after, the relationship was over. Who knows how long this relationship could've lasted. I will never know because I destroyed it through an effortless chat that I shouldn't have. Things ended so bad between us that we did not speak up until two years after. Don't get me wrong, Every now and then receiving feedback and advice helps us mature in our relationships.
However there are things that ought to be acknowledged only to those who are in the relationship. If there are circumstances where you really need a second opinion, try to speak to individuals who you know in no doubt are trustworthy. A counselor or therapists is options.
Now if by now you are in a situation where you said what you shouldn't have, do some damage control. Apologize to your partner and let them know everything. Make it clear to your friends that you feel bad about speaking on it. They'll understand if they are your friends. If not, you probably need some new friends. And just put into practice zipping those lips. Remember they are what got you in trouble in the first place. Trust me you'll learn a lot!
Trust in Relationships (1240)