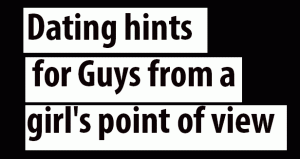 Dating Tips for Guys from a girl's point of view. 
When men date women, they look at it from a guy's point of view, often ignoring the girl's point of view, which is all the more important. In this article, you will find dating hints for guys from a girl's point of view. By following these, you can get most women that you want easily.
1.     Observe:
Observing little things that might not seem to otherwise matter attracts women. It does not involve observing just the figure of a woman but goes much deeper than those. Observe other little things that most other men will not observe and at least not acknowledge. This will help you attract women better.
2.     Listen:
Most guys do not pay attention to what a girl is speaking, rather being lost in thoughts of their future together. This is a big blunder. You must rather just pay attention to what she is saying, and you shall learn a lot about her, including what she expects of you. Pay attention to her words and also to her tone, posture, gestures and body language for they will often reveal much more than that which her words can portray.
3.     Do not ignore:
You must learn to listen to and pay attention to your date. Observe her movements well. Her posture and behavior will give away all there is to know about the revelation of attraction. If she responds to you just as she would to any other man, then you might want to alter your approach to her. These observation and listening skills are not something you can acquire overnight. You could try them with other women for practice.
4.     Listen to your gut feeling:
At times, nothing can guide you better than your gut feeling or intuition. Just let the right moment arrive for you to hold her hand and even for you to lean over and kiss her. It can sometimes even be fun guessing when the right moment arrives. But nothing can be   as accurate as that gut feeling of yours.
5.     Make her feel special:
Every girls like being around men who make them feel like princesses. Make sure that you pamper your date and make her feel special. Even little things like complementing her on her looks or choice of dress or jewelry can do quite some magic. If a girl feels special around you, she will definitely like being around you over other guys any day.
You can check out 10 At Home Date Ideas: Fun, Romantic & Cheap (793)