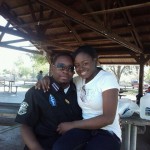 Hi everyone this is Dony and this is actually my very first post on Relationship DJ. Johny has been a trooper in holding it down while I've been studying. I am very grateful unto God for putting such a wonderful man in my life and I pray for all my readers that you too can find that special someone.
Now I know that I said this would be my very first post  but I want to retract that and rather say this is more of a story that I want to share with all of you, so sit back and enjoy the story!
My Long Distance Relationship Story
As many of you may already know from our bios that last year I had to move away from home to go to school to pursue my dreams. J was extremely supportive in all that I wanted to do and we made sure that for the past year we did our best to make things remain as close to normal as possible even though we were miles away from each other. In the past year I only got to see J during my winter break, spring break and I was blessed to spend my summer with him too.
During the time I was away I felt that our relationship and more so friendship had reached an entire new level that I can say neither of us has experienced. We had to deal with time constraints especially since we lived in different time zones and not to mention we had to deal with our busy schedules but somehow through it all we found time for each other.
During my second semester, J and I started to talk a lot about our future. We've always known we wanted to spend the rest of our lives together so we constantly talked about our marriage and our wedding, what it would be like, etc. I would always joke and say to him "you know in order for any of these things to happen you have to ask me to marry you first". He would laugh and just tell me things like "hey you never know." (typical J answer by the way)
The proposal
Now while I was in school, I spent so many endless hours studying that I started to have trouble with my lower back, Johny figured that it had to be the chair that I was sitting on that was causing me to have this pain, so after convincing me to change the chair I was sitting on, he told me he would get me  a desk chair as an early birthday present. I finally decided to give in and he purchased the chair.
On May 4th, 2010 I got one of those delivery papers on my door letting me know that my chair was left at my building's front office and was available to be picked up. I was so exhausted that day that I called Johny and told him that " I think I'll just wait until tomorrow to go and pick up the chair." But for some unknown reason to me at the time he kept nagging (sorry bae) to go pick up the chair.
So again I gave in and went to the office to pick it up. When I reached the office told them I was there to pick up a package, they asked me if I was there to pick up the chair, and all the office personnel had huge grins on their faces. I answered them saying "yes" and thinking to myself "okay these people are weird cause I'm only here to pick up a chair." So while picking up the chair I remained on the line with J and the lady brought the chair and asked me if this was it, and I said "yeah I guess it looks like it." But then she said "No, look to see if this is it", while pointing on the sticker that says the name of the recipient of the package.
Again I'm thinking to myself "weird" but when I looked at the sticker all I remember happening is me freezing in place and seeing on the sticker "happy bday and will you marry me?" All I heard myself saying to Johny on the phone was "are you serious?" repeatedly. And all I could hear the office personnel saying, "so what is it going to be?" When I finally realized that this was all happening I finally did answer Johny and told him "of course I want to marry you."
So  you guys, he got me, I always thought in my mind that I would just know exactly the day and time of how and when he would propose to me, so to say the least I definitely hadn't seen this one coming. When I did get home this summer though Johny did get down on his knee since he hadn't the chance to do it then, and now we can say that we are engaged and next step is spending the rest of our lives together by becoming husband and wife.
For now…this is where our long distance relationship proposal story ends. But we will be sure to keep you all updated on our relationship stories and always feel free to share with us your very own.
Xoxo,
Dony
Long Distance relationships Story part II
(26703)